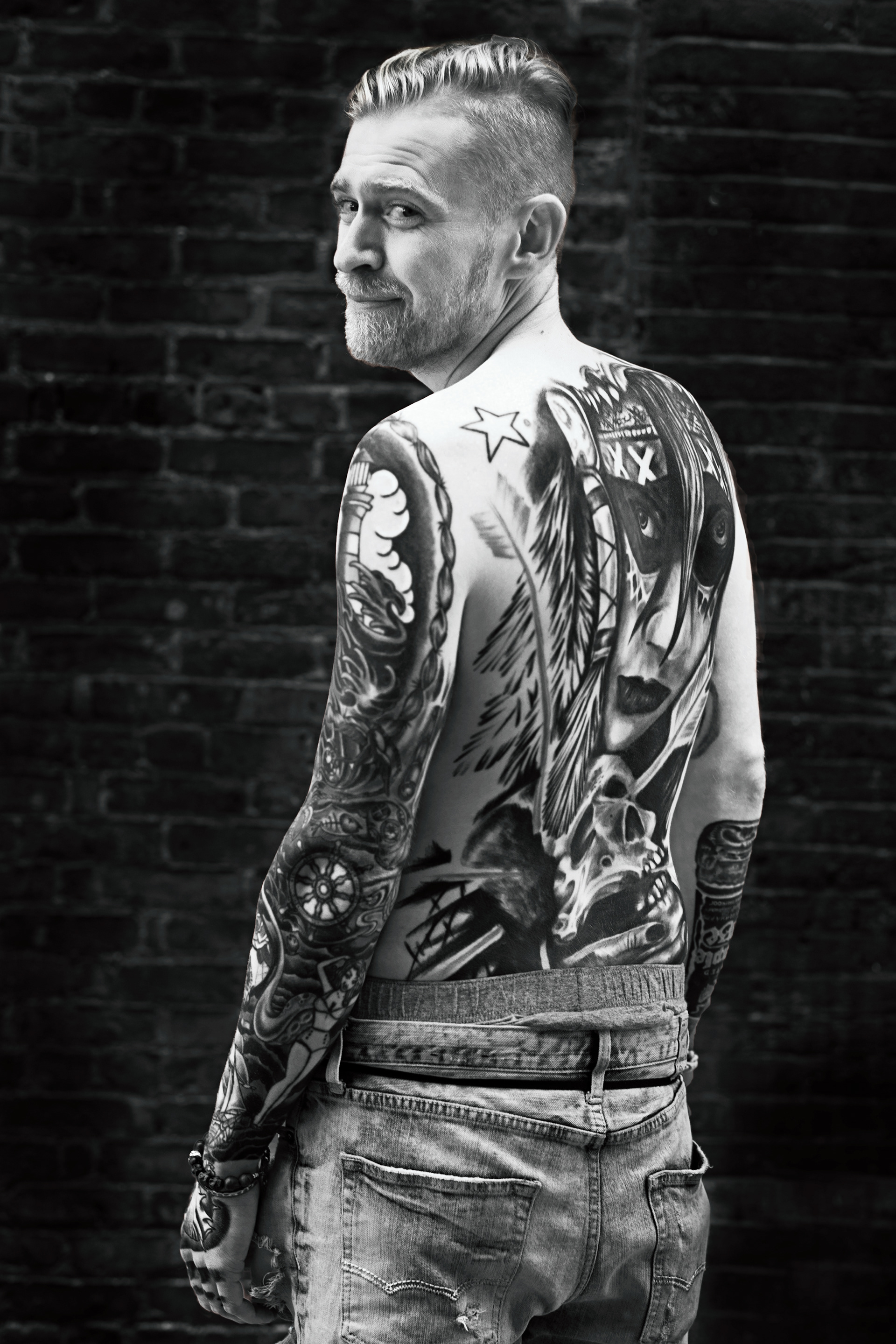 I've met nick and his girlfriend at a rooftop bar. Both are very interesting people, and I couldn't have
asked for a better model than him to be my last street photography of this project.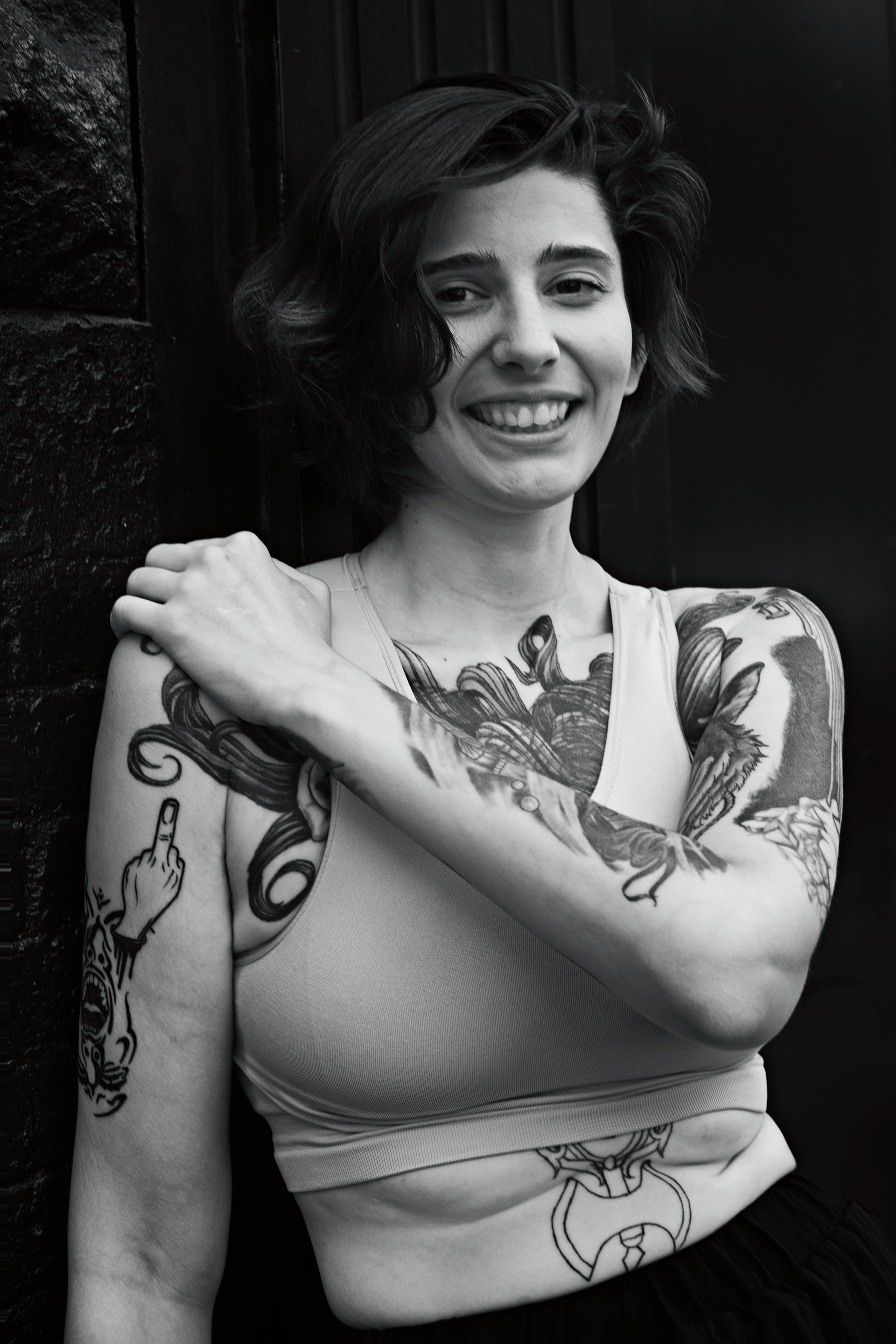 "The most important tattoo I have is the one on my right arm. I've created the design when I was on 8th grade, and got it tattooed only a few days ago"
Alley, NY

Behind the scenes: I was packing up my gear after an exhausting shooting day when I saw a beautiful and confident woman crossing the street in SoHo. I was inapresentable, if there is such word: sweatty, greasy hair, tired, but somehow she didn't get scaried when I asked if she would like to pose. She just opened a big smile and said: "Sure, why not?"".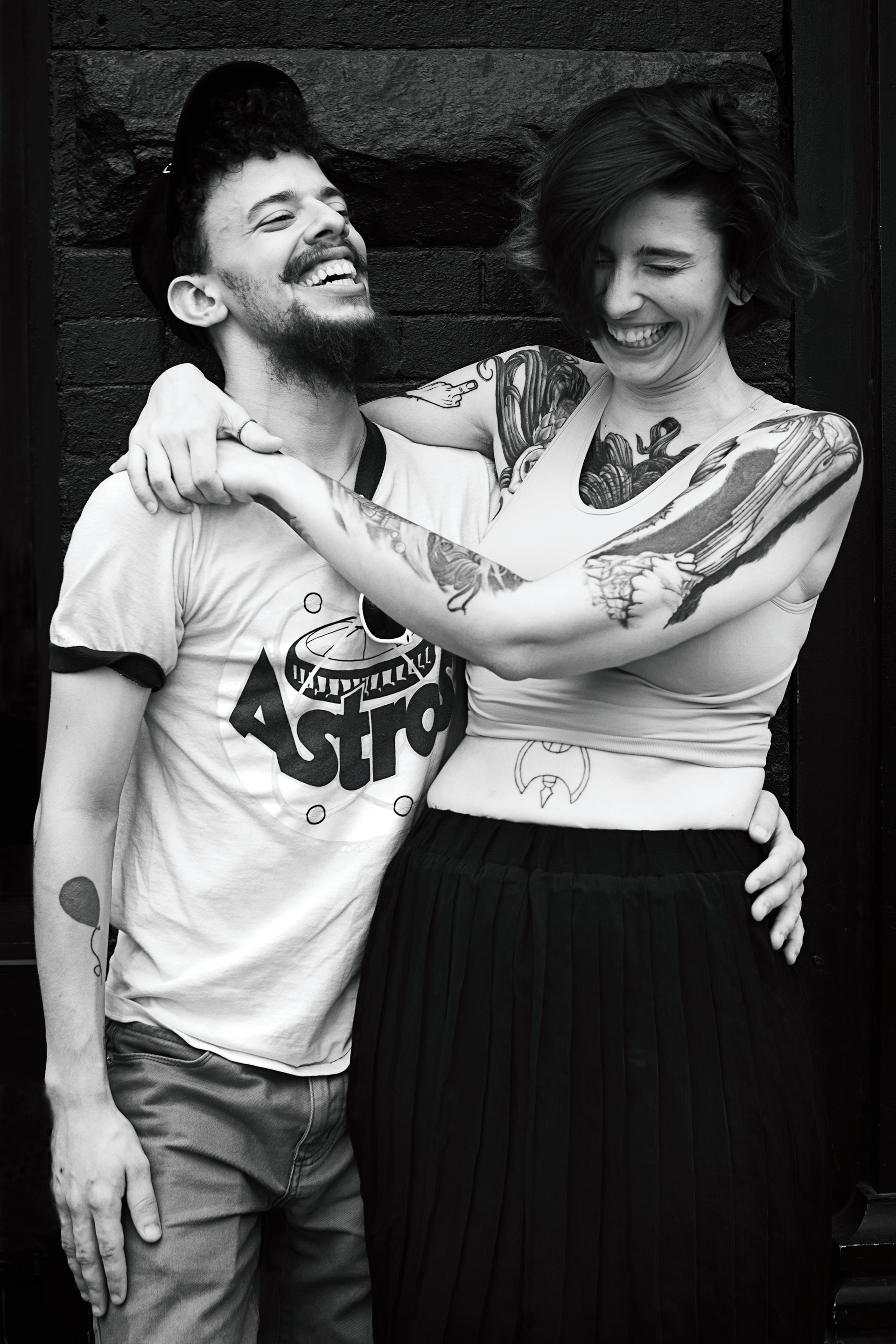 "I am originally from NY, but have moved to Puerto Rico when I was a kid. After that, I've moved to different states in US, until I met Alley. Unfortunately, the economic situation in PR is not that good any longer."
Raul

Behind the scenes: it turns out that Alley thought I was crazy and brought Raul with her, just in case. Better for me, got a really good shot of a sweet moment of them.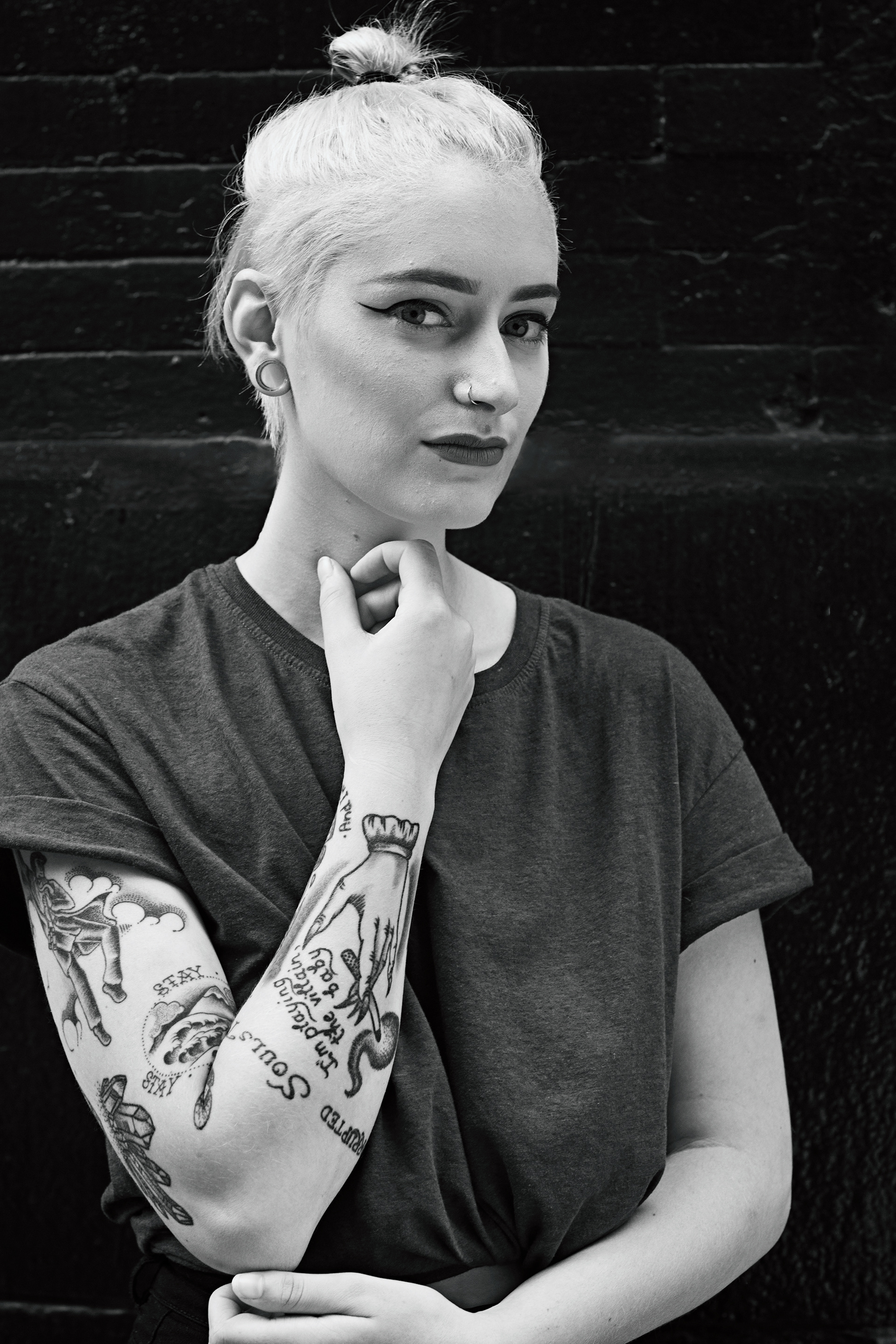 "All my tattos are meaningful for me. Thei are either a tribute to someone I love, represent something that like inspires me like a movie or song, or express my feelings and state of mind. I even have one representing my anxieties!"
Kayla, Photographer in NYC

Behind the scenes: I've met Kayla in a fashion shooting project and was immediately captivated by her personality. She promptly agreed to pose for me, and this shot was made at 8th and 39th streets - NYC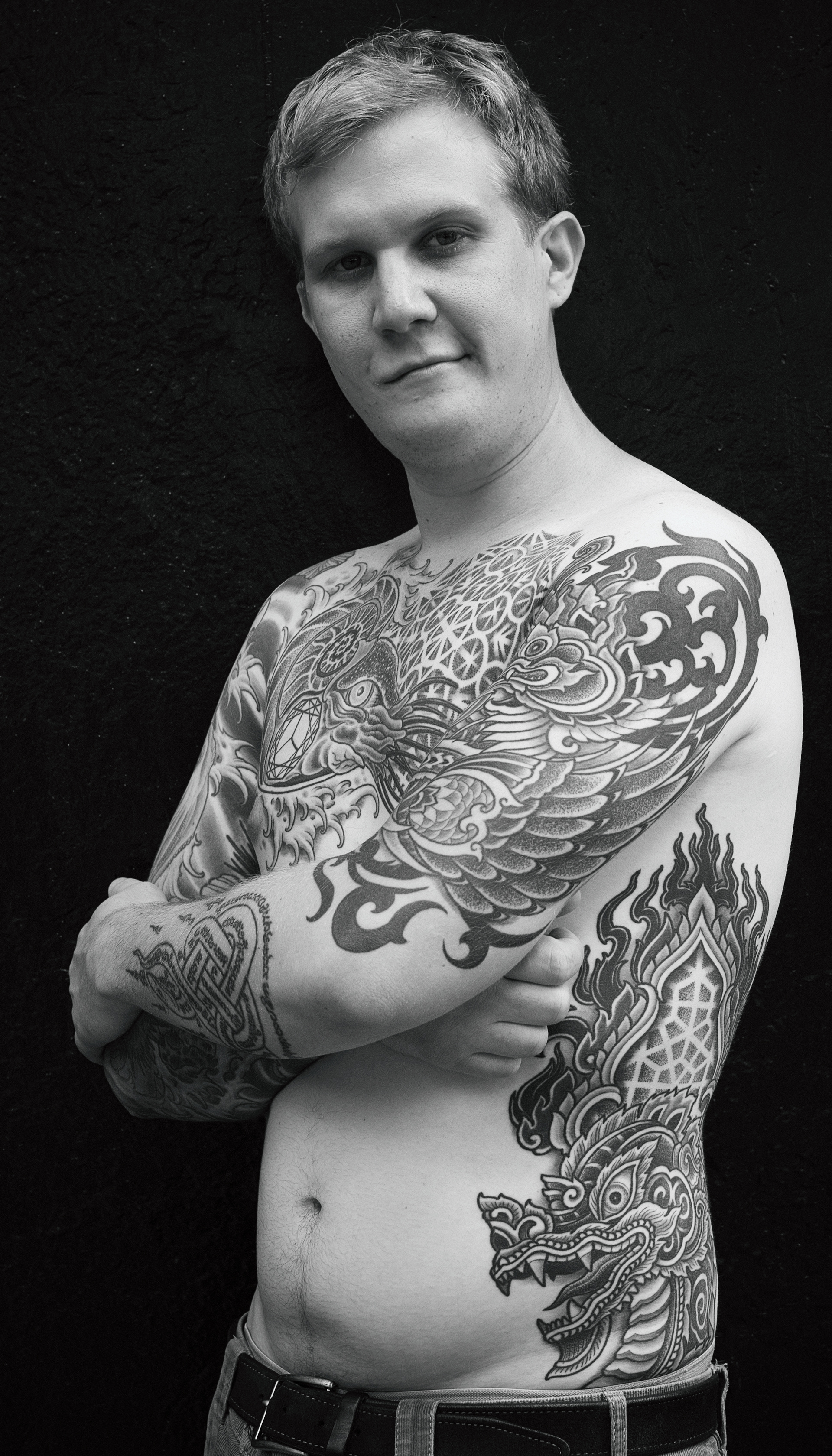 "I've travelled to several different places, and spent an year teaching English in Jakarta, Indonesia. Since I got back I've strated working with beer insumes, and now I have a company that sells Hops."
Jason, Small Business Owner in Portland, Oregon
Behind the scenes: I was with a friend at my favorite bar in Greenwich Village, when I saw all these amazing tattoos in his arms. He agreed to meet next day near by the his hotel, and although he is extremely shy, he offered to take out his shirt so I could take the pictures for this project.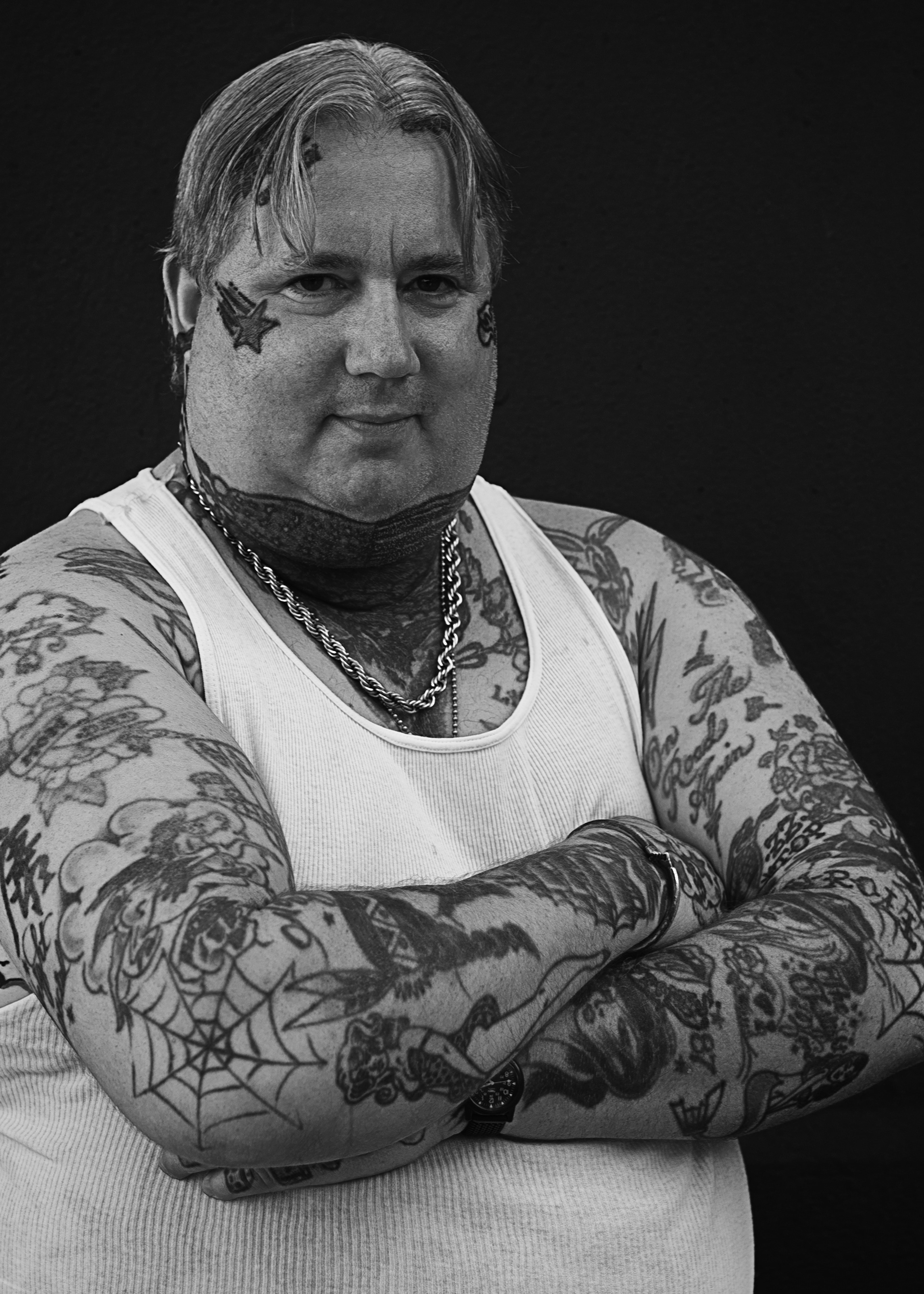 "I've started being tattoed when I was 16, back in the 60's. By that time as it was illegal to tattoing anyone we use to do it on our kitchen, with very thick needles. I have more than 250 tattoos, all classic, and a few of them I've done myself sitting in my basement. I have been working as a police officer for 30 years, and the only thing they asked me was to not shave my head, which is covered as well." 
Brett , Police Officer in NYC
Behind the scenes: I've lived in DUMBO with a couple of friends, and I use to take long walks with their dog every morning. Brett works at Flatbush Avenue in front of Manhattan Bridge controlling the traffic. Took me a good couple of months to create enough courage to talk to him. However, took me only two minutes of conversation to figure out he is a big loving teddy bear.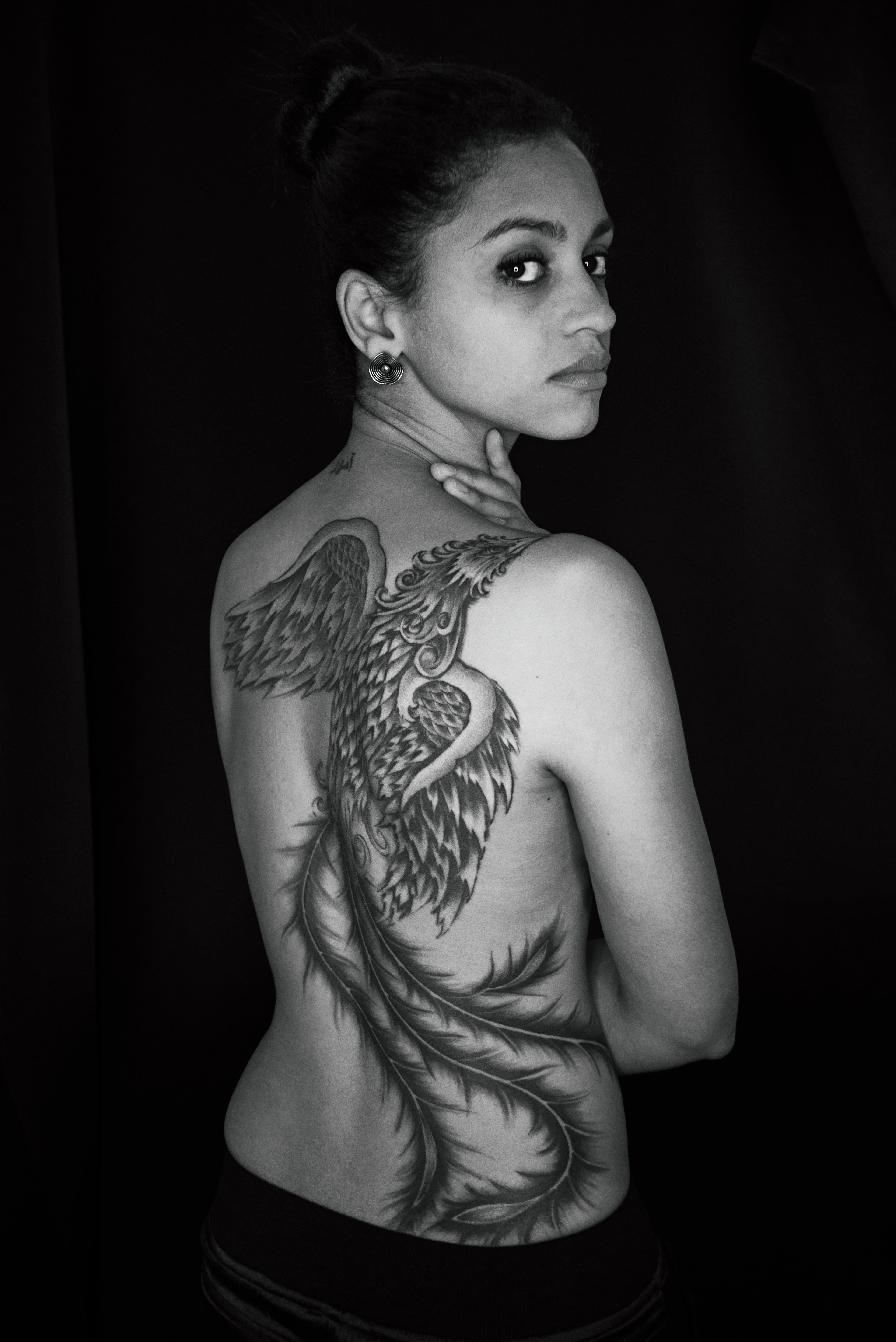 "We got married pretty young: I was 15 and he was 23. Inevitably we grew apart, and it ended when I've found out he was being unfaithful. I calmly packed his things and asked him to leave. Since then I've came a long way, and now I am a successful photographer, living in NYC. This phoenix represents the art of reinventing ourselves". 
Sarah, Photographer and Climber in NYC
Behind the scenes: I've met Sarah during a summer class I took in NY. Twenty years younger than I, she very often acted as my voice of conscience.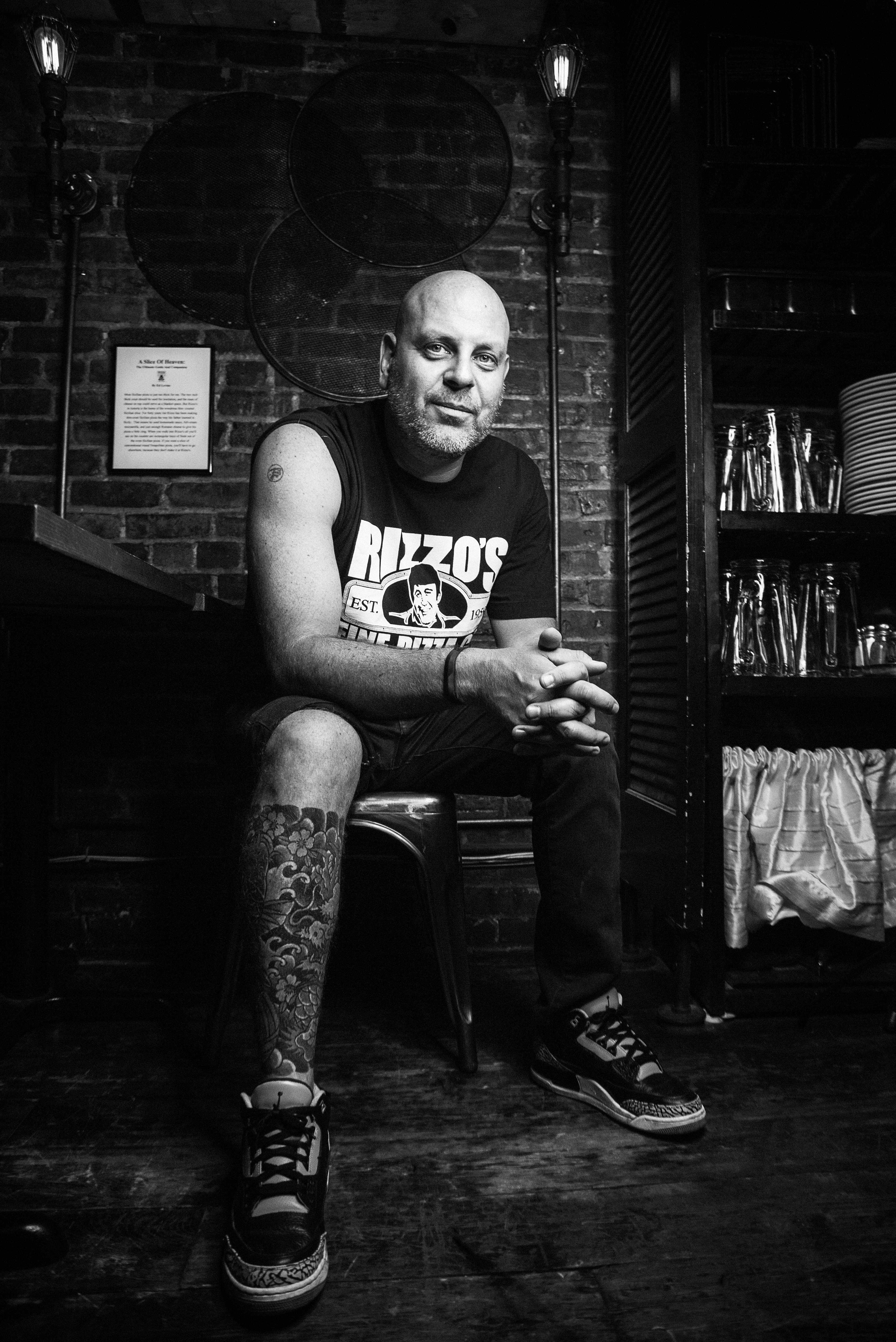 "I've came from Ukraine when I was 8 years old, direct to Brookly, NY. It wasnt easy: we dessed differently, spoke a different language and eat different food. I grew up on the crazyness of NYC at the 80's, and came a long way since the old street gang days: graduated at university and now I have my own business".
Bugsy, Business Owner in NYC
Behind the scenes: being a student in NYC is not as glamorous as it sounds... as any other student, we were completely broken and counting our dimes to have drinks and eat. We were walking at Lower East Side when we've spot this pizza place: A pizza and a beer for USD 3,00 or something like that. As a bonus, we've met Bugsy, with an incredible life story and crazy friends.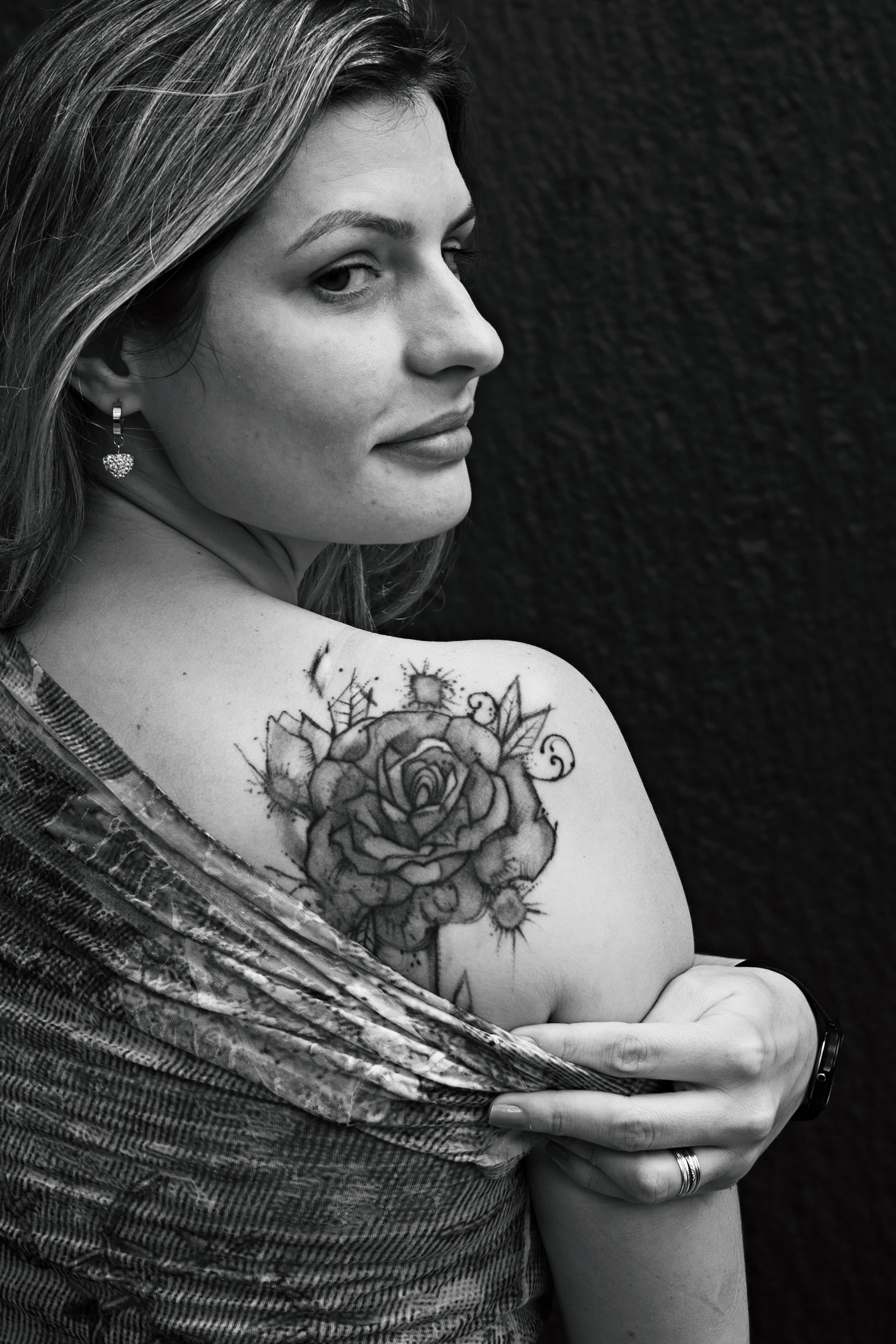 "I've went to this tattoo shop to get a flower tattooed. He stared at me and said he wouldn't do any regular flower, but a beautiful one. We've been together since then." 
Ju, Rio de Janeiro
Behind the scenes: see Leonardo's story below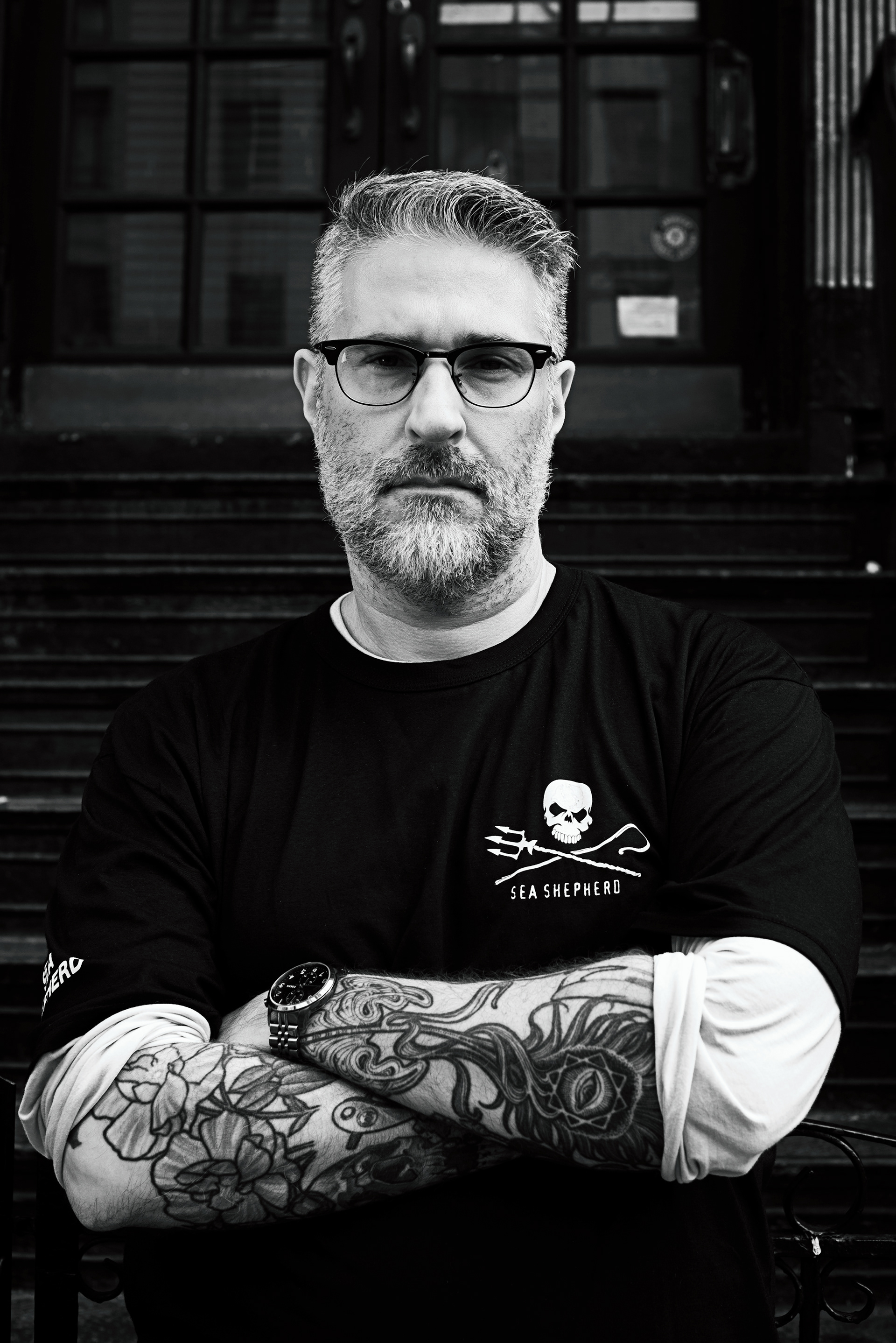 "I knew I wanted to be a tattoo artist when I was just a kid. By that time, it wasn't legal to be a tattoo artist, neither to use tattoo equipment. But I knew what I wanted. My dad, seeing that he wouldn't be able to talk me out of it, signed me to the best drawing school in Rio. However, it took me years until I finally decided making a living of it. Now I have a successful studio"
Leonardo, Tattoo Artist in Rio de Janeiro
Behind the scenes: Sara and I were looking for art supplies for a photo project we had, when I've spotted this guy purchasing brushes. I got close to him, mumbling something about how cool that store was, when I realized he and his wife were Brazilians. We quickly engaged in a conversation that lead to his and his wife's pictures. They were my first models for this project.